MONOLOGN
An evening of monologues and scenes
Ruby Lee Lowenstein is a playwright, poet, performer, and now director and producer (???) from Ann Arbor, MI. Currently based out of NYC, their work is interested in gender, Judaism, and chaos and always ends up accidentally being about G-d. They recently had the absolute honor of directing Vos Flist Durkhn Oder by Mikhl Yashinksy and now are OBSESSED with making super queer super hot super new yiddish theater- more, more, MOREEEE!!! MUAHAHA!!!
Corbin Allardice
Selection: "Bottoming Out (Contra Hamlet)." A poem by Aaron Zeitlin.
Corbin Allardice is a Yiddish translator, writer, and occasional actor based in New York. He was a 2021 translation fellow at the Yiddish Book Center working on the poetry of Vilna partisan Rikle Glezer. He has worked extensively with the Folksbine and New Yiddish Rep as a surtitle designer and operator. 

Annie Cohen
Monologue from Sholem Aleichem's "Mentshn Un Oyfes."
Annie Cohen is a third year PhD Student in Modern Jewish History at the Jewish Theological Seminary of America. Her research focuses on the Jewish left in the 1930s and specifically Jewish volunteers in the Spanish Civil War. She also researches Jewish women's religiosity in Eastern Europe, and publishes her translations of Yiddish texts on the topic on a blog www.pullingatthreads.com.Annie is originally from London and has been teaching Yiddish with the London based language school Babel's Blessing since 2019. She has also taught for Yiddish Summer Weimar, and more recently on the KlezKanada digital intensive as one of their 2022 Freed Fellows.  This year she was also selected to be one of the Yiddish Book Center's Yiddish Pedagogy Fellows.

Yoyneh Hersh
"Petsh." A monologue by Der Tunkler.
Yoyneh Hersh grew up hearing Yiddish from old Jews on the Lower East Side. As a young boy, I declared, "I'm a grumpy old man!", and it's been off to the races ever since. I've studied Yiddish at the Yiddish Book Center, YIVO, and Yiddish Farm, and have translated and published several excerpted Yiddish works.
Jacqueline Krass
Peretz Hirschbein's monologue "A Gefallener Shtern."                                                            
Jacqueline (Nekhe) Krass is a PhD student/writer/diehard New Yorker who has somehow been living in the Midwest for the last four years. She studies Yiddish American poetry and other things.
Andrushka Kuznetsov
Y. L. Peretz's short scene "Er Un Zi."
Andryusha Kuznetsov (he/him) is a Yiddish and Russian language teacher and translator completing side quests in poetry, design, and now– acting

Yaakov Lipsker
hSholem Aleichems's "Mister Grin Hot A dzab."
Yaakov Lipsker grew up in a Yiddish-speaking environment in Swampscott, MA. After stumbling upon a book titled Outwitting History during his freshman year of college, he learned about the Yiddish Book Center and attended the Steiner Yiddish Summer program in 2013. He currently lives in Brooklyn and can often be found at the YIVO archives, working on a dissertation on everyday Jewish nationalism in imperial Russia."
Beila Ungar
Y. L. Peretz's short scene "Er Un Zi."
Beila (they/them) is a Yiddish student, klezmer musician and former professional dancer. Originally from Maryland, Beila moved to New York in 2018 to attend Columbia University School of General Studies and graduated in May 2022. In 2021 they released an EP of Yiddish songs called Paper is White. They recently completed the YIVO Summer Program in Yiddish Language Literature and Culture, and have attended KlezKanada and Yiddish New York for many years. Beila is grateful to get to be onstage with friends!
Mikhl Yahinsky
Monologue from Avraham Goldfaden's "Shmendrik."
Mikhl Yashinsky is a theatre artist and Yiddishist born in Detroit. His work as a stage director of opera has brought him to such institutions as the Detroit Opera House and Vienna's Theater an der Wien. His own plays have been performed at the Harvard Playwrights Festival, the Candlelight Theatre in residence at the Indianapolis mansion of President Benjamin Harrison, the Detroit Opera House, and most recently, the Lower East Side Play Festival, where his new Yiddish drama Vos flist durkhn oder (Blessing of the New Moon) premiered this summer. He has acted in the National Yiddish Theatre Folksbiene's productions of Fidler afn dakh (Fiddler on the Roof), directed by Joel Grey, and Di kishef-makherin (The Sorceress), both of them New York Times "Critic's Picks."  As the Sorceress, he was hailed by the Times for bringing a "keen, if malevolent, psychology" to the title role.  At the Yiddish Book Center, he co-authored the new language textbook In eynem (All Together). His translations of the memoirs of Ester-Rokhl Kaminska, the "the mother of Yiddish theatre," as well as early short stories by Isaac Bashevis Singer, are forthcoming. In 2019, Yashinsky was named to the "Forward 50," the newspaper's annual list of "influential, intriguing, and inspiring" American Jews.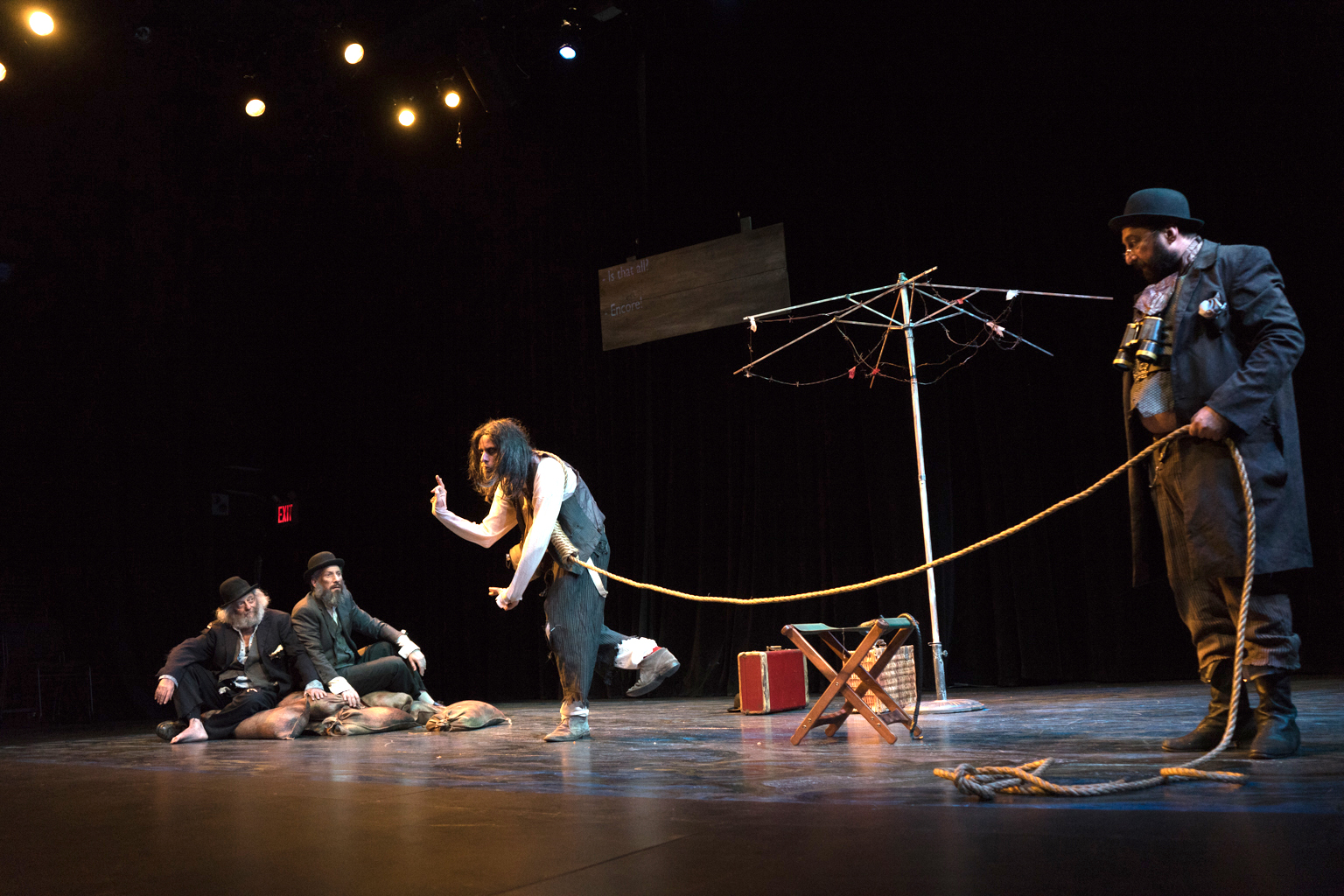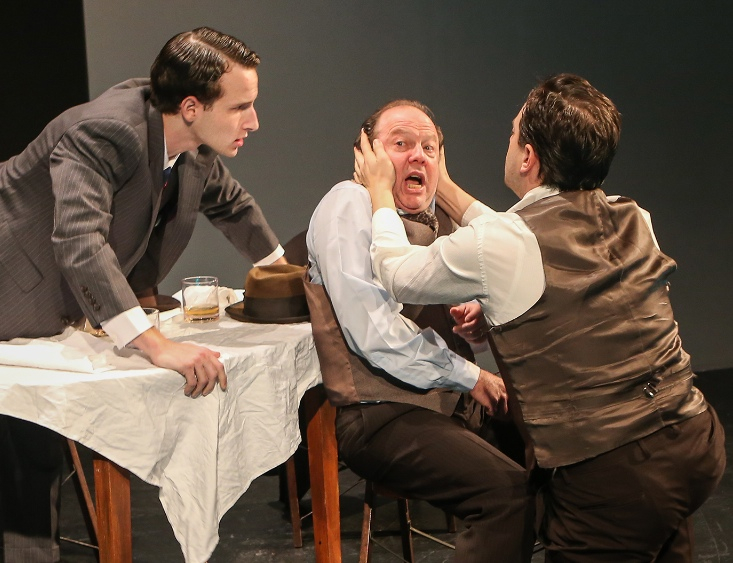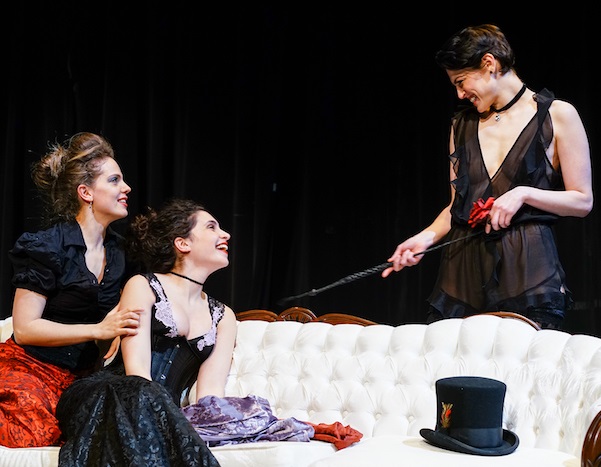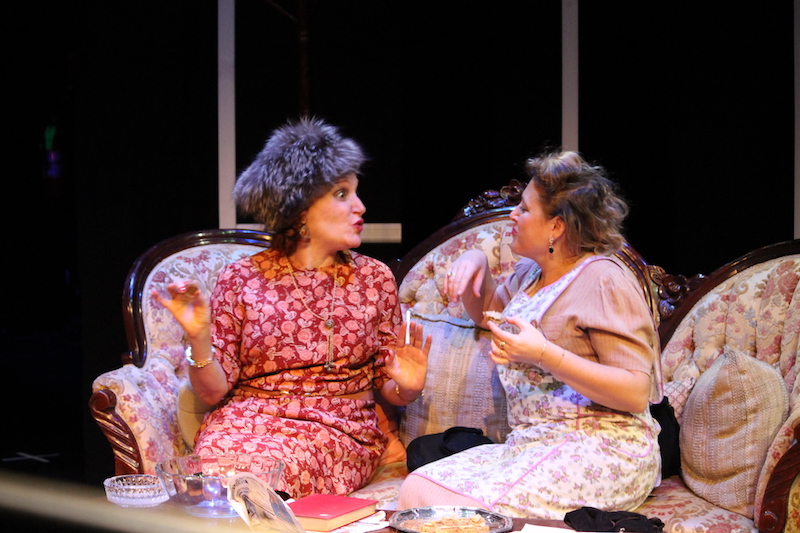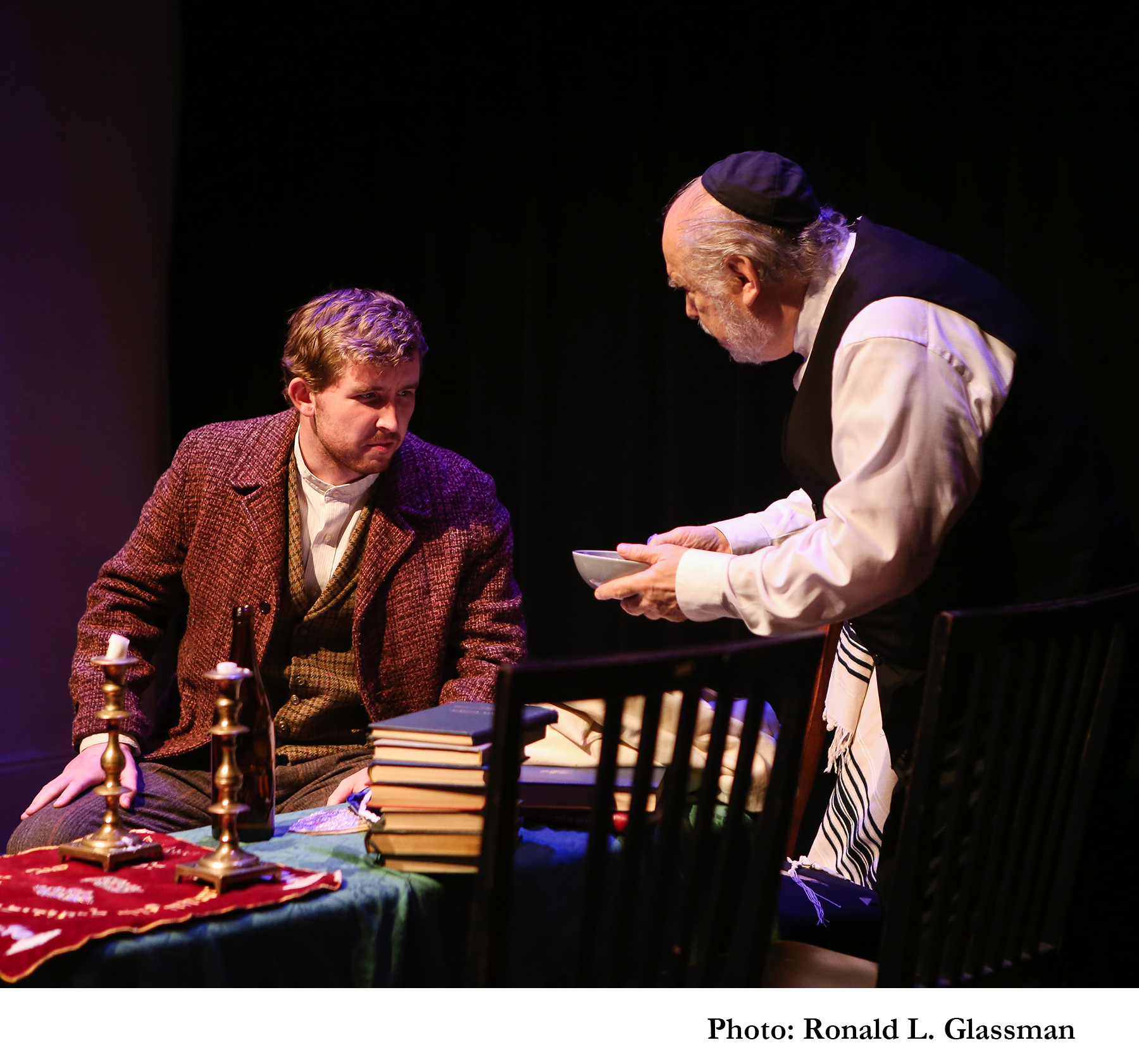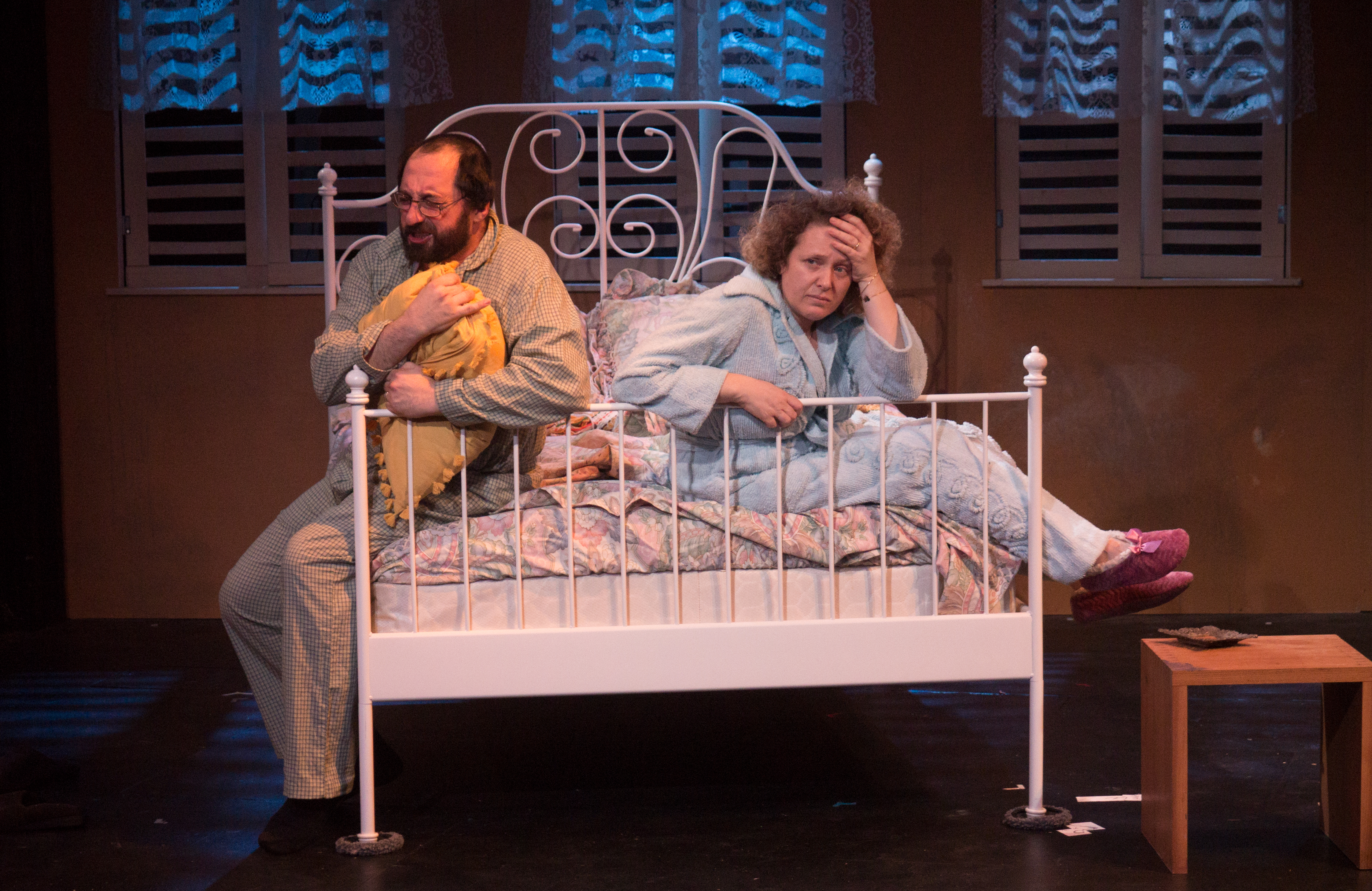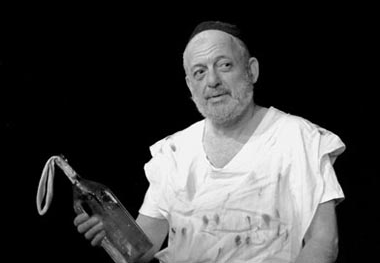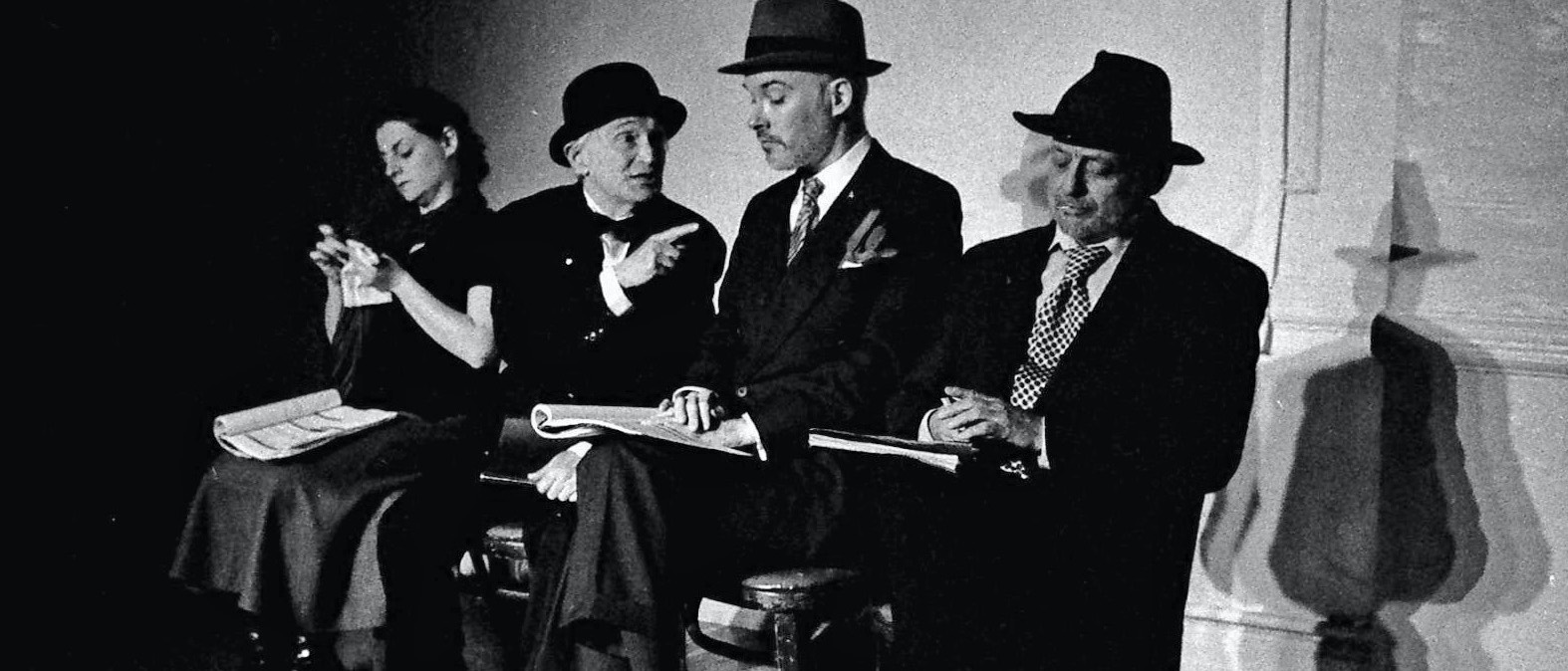 trio1
THE ESSENCE: A YIDDISH THEATER DIM SUM
YoslSlider
YOSL RAKOVER SPEAKS TO GOD
Bupkis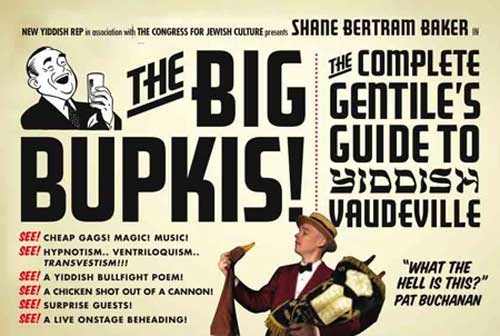 Yiddish World Premieres
Waiting For Godot
Rhinoceros
The Labor Of Life
The Whore From Ohio
Yiddish Classics
God Of Vengeance
S' a Lign / Agentn
Meshiekh In America
An Evening with Y. L. Peretz
Originals
Yosl Rakover Speaks To God
The Essence: A Yiddish Theater Dim Sum
The Big Bupkis: A Complete Gentile's Guide To Yiddish Vaudeville
The Drunk Cantor
Land Of Fire
Modern Classics
Deathj Of A Salesman
The Irish Hebrew Lesson
The Bespoke Overcoat
Awake And Sing
Readings
Shylock
The Empty Inn
Making Stalin Laugh
Di Froyen