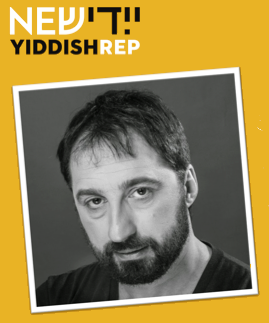 Gera Sandler is an Israeli actor, stage director, and TV personality. He graduated from the "Beit Zvi" School of Performing Arts in 1997 and performed at the Gesher Theatre in Don Juan by Molar and The Last Devil by Isaac Bashevis Singer. For twelve years, he has been one of the leading actors in the Yiddishpiel theatre in Israel. His prominent credits include Nathan in the American musical The Rothschilds, Hershel in Simple Story by Agnon, and The Magician from Lublin by Singer. In the US he played in COVERS, Knock, and Old New Year by Lost & Found Project, as well as Making Stalin Laugh, Rhinoceros, Awake & Sing, and Waiting For Godot at New Yiddish Rep.
He has directed numerous productions, including operas, dramatic plays, and kid shows. Gera has appeared in over thirty movies and series in Israel, Russia, and Poland, including Jellyfish (winner of three awards at Cannes Film Festival) and A Tale of Love & Darkness directed by Natalie Portman. He's played in more than fifteen Israeli TV series including a main role in the four-season sitcom Eighties. Gera is also an accomplished Israeli voiceover talent famously known for the character Bloo in the Foster House for Imaginary Friends series and Dracula in the Hebrew version of Adam Sandler's cartoon Hotel Transylvania.
course description
RUSSIAN ACTING THEORY – SCENE STUDY (Intermediate-Advanced)
Make the switch from amateur performer to professional actor through the latest techniques of the great Russian teachers: Constantin Stanislavski and Michael Chekov. Explore Stanislavski's system of Events, The Through Line, Unit of Action, Loop & Hook, Seesaw, Given Circumstances, Circles of Attention, and more. Touch on Michael Chekhov's mystical method of Psychological Gestation, Atmosphere, The Inner Raising of Your Character, Long-Term Inner Communication with a Character, and beyond. Through scene work on Sandler's own dramatic play "Mayses" (based on fairytales by I.L. Peretz), students will discover the magic of theatre and the power of imagination… and maybe a little Russian. Time to make the switch amateur to professional!
amy coleman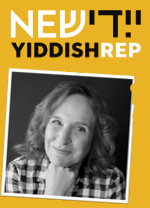 Amy Coleman is co-founder of the NYR. She is a professional actress, singer, director, writer, director, producer, and teacher. She directed NYR's first production which starred Artistic Director David Mandelbaum in Yosl Racover Speaks to God. Amy has acted in many NYR productions, including The Drama Desk nominated Death of a Salesman. Other acting credits include the off-Broadway hit The Last Session, the original production of Beehive, Audrey II in Little Shop of Horrors, and Mary Magdalene in Jesus Christ Superstar. Films include SPLIT and the indie cult classic Habit. Ms. Coleman's play Crazy Meshuge Hurricane Earthquake recently debuted in a limited run off-Broadway. As a singer Amy was awarded Best Vocalist of the Year twice in Backstage Magazine. With her band, Amy has sung throughout the US and Europe on TV, radio, festivals and clubs. She has recorded five albums available on iTunes. Ms. Coleman has taught singing, acting, and writing for many years. Her students have gone on to appear on Broadway, Off Broadway national tours, film, and TV. She is a licensed social worker.
AMY COLEMAN
The Method of Method Acting
(Beginners)
Wed 10-12 pm
This class will explore the use of Method acting as a way of creating truthfulness in a student's performance. We will investigate the foundation of sensory work and utilize exercises from Lola Cohen's The Method Acting Exercises Handbook. We'll practice with Method acting tools such as substitution, private moments, and personalization as a way towards building believable characters in their given circumstances.
For Singers Who Act & Actors Who Sing
(All Levels)
Mon 12:30-2 pm
It is not only the voice that is utilized when singing, it is the vocalist's entire being. This course will take a holistic approach to the art of singing by exploring the many elements involved in developing a unique voice and performance style. These elements include relaxation, breathing, acting, and vocal techniques as well as personalization and analysis of lyrics.
WRITING IN ALL DIRECTIONS (All Levels)
Wed 12:30-2 pm
A "all-are-welcome" experience. Whether working on a new project or putting the finishing touches on a second or third draft, this class is designed to support the writer in the development and completion of their work. All genres! All styles! And all formats! This class encourages the exploration of identity through writing!