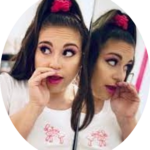 The Egg Cream Balebustes
Sunday October 15
315 W. 39 Street Studio 611
coming in december
A New Yiddish Drama
by
Mikhl Yashinsky
the gospel according to chaim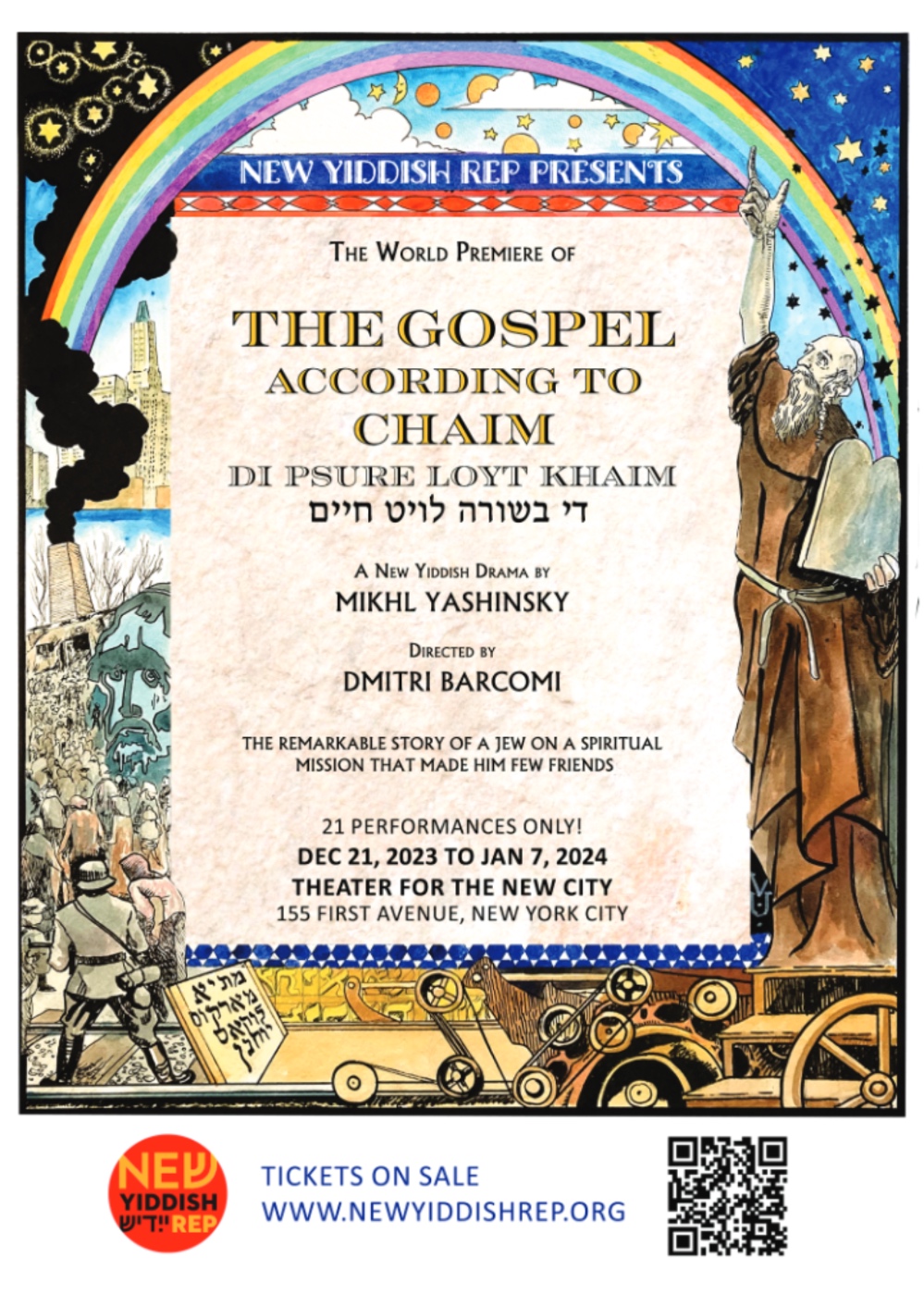 For tickets click button or scan QR coge
All tickets general admission $25 / $36 / $45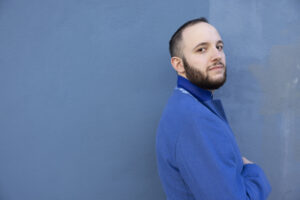 Mikhl Yashinsky was born in Detroit and studied European history and literature at Harvard. His original plays have been performed at Detroit Opera, the Lower East Side Play Festival, and New Yiddish Rep. His translation-adaptation of Ephraim Kishon's Hebrew-language play Romeo vs. Juliet recently received its first industry reading, starring Lesli Margherita. Other writings include the Yiddish textbook In eynem (co-author) and a translation of Yiddish theater pioneer Ester-Rokhl Kaminska's memoirs (forthcoming from Bloomsbury). As a LABA Fellow, Yashinsky is currently writing a Yiddish-language klezmer musical with the band Mamaliga.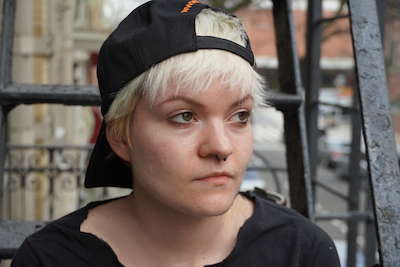 Dmitri Barcomi is a cross-disciplinary theater creator and director whose interests include working with unusual source materials, and integrating technology and live performance. Barcomi has directed work in New York at Lincoln Center, Target Margin, Ars Nova, HERE Arts, La MaMa, BRIC, and other hubs of experimental new work, as well as internationally at the Edinburgh Fringe and the Teatr Słowackiego in Kraków.  A member of the Lincoln Center Directors Lab, he is the artistic director of the newly opened pop-up Museum of Drag (MoDrag).
 
NEXT STOP
by Amy Coleman
directed by Gera Sandler
with
Amy Coleman and David Mandelbaum
24 MINUTES

 

IN AN ALTERNATE REALITY NEAR YOU
An existential comedy in the time of Corona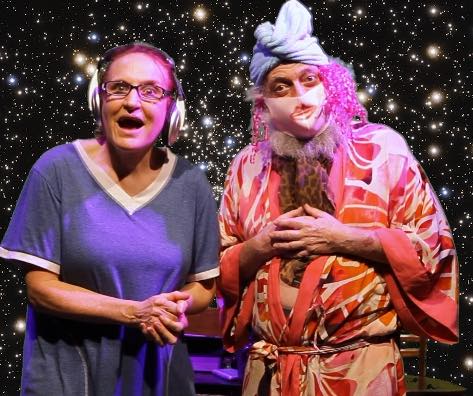 Tickled pink by this review from hidrama.com of our February production of
the whore from ohio
There is a lot more to this play than scatological imagery. But if that is all this reviewer saw he certainly did a snappy job of expressing his opinion. 
Read the entire scathingly amusing review
...three talented performers trapped in a scatological hell...
MARK SAVITT REVIEWS THE WHORE FROM OHIO
Written by Hanoch Levin
Yiddish Adaptation by Eli Rosen
Directed by Gera Sander
David Mandelbaum. as The Old Man
Eli Rosen as His Son
Malky Goldman as The Whore
In Hanoch Levin's The Whore from Ohio, an old man's (David Mandelbaum.) fancy turns to lust. As a 70th birthday gift to himself he, after much haggling, agrees to pay 100 shekels for a quickie with the local whore (Malky Goldman). When the old man can't get it up, his son (Eli Rosen) does the dirty with the whore. The son, however, is worried that his father will squander his potential legacy.
This is the basic situation, but the play is more concerned with the old man's fantasies, dreams and dream-like memories. He muses about his first love, Evelyn; a waitress with big breasts; his kindergarten teacher; and especially the whore from Ohio who lives a fabulously luxurious life. Many of these fantasies involve elaborately repulsive imagery, such as being sucked up into his teacher's enormous ass only to meet the dreaded postal clerk already there. This feels like a disgusting variant on a mid-century European modernist play.
While some moments are funny. a 100-minute long dirty joke gets tiresome very quickly.While this is a decidedly Jewish play, I was left with the image of a weird Trinity of the Father, the Son and the Whorey Ghost.
These are three talented performers. It's too bad they are trapped in a scatological hell here.
UNHAPPY FACE PLUS
New Yiddish Rep at the Theater for the New City, 155 First Ave.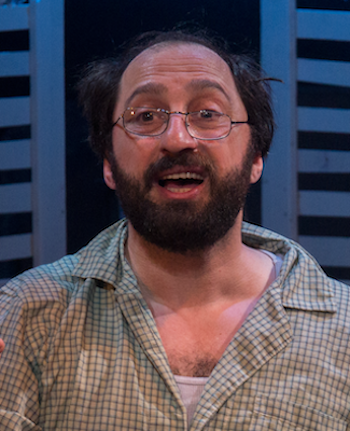 Gera Sandler as Yona Popuch in Labor Of Life
about Gera
Gera Sandler is an Israeli actor, stage director, and TV personality. He graduated from the "Beit Zvi" School of Performing Arts in 1997 and performed at the Gesher Theatre in Don Juan by Molar and The Last Devil by Isaac Bashevis Singer. For twelve years, he has been one of the leading actors in the Yiddishpiel theatre in Israel. His prominent credits include Nathan in the American musical The Rothschilds, Hershel in Simple Story by Agnon, and The Magician from Lublin by Singer. In the US he played in COVERS, Knock, and Old New Year by Lost & Found Project, as well as Making Stalin Laugh, Rhinoceros, and Awake & Sing at New Yiddish Rep.
He has directed numerous productions, including operas, dramatic plays, and kid shows. Gera has appeared in over thirty movies and series in Israel, Russia, and Poland, including Jellyfish (winner of three awards at Cannes Film Festival) and A Tale of Love & Darkness directed by Natalie Portman. He's played in more than fifteen Israeli TV series including a main role in the four-season sitcom Eighties. Gera is also an accomplished Israeli voiceover talent famously known for the character Bloo in the Foster House for Imaginary Friends series and Dracula in the Hebrew version of Adam Sandler's cartoon Hotel Transylvania.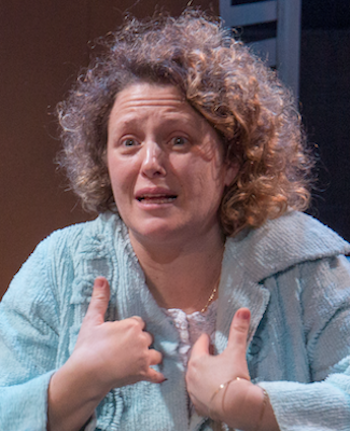 Ronit Asheri-Sandler as Leviva in Labor Of Life
about Ronit
Ronit Asheri-Sandler (Leviva) has appeared in previous New Yiddish Rep productions of "Awake and Sing!" and "The Labor of Life."  In Tel Aviv's Yiddishpiel Theatre, she was awarded the Yiddishpiel Best Actress prize for her appearance as Anna Andreyevna in "Revizor" by N. Gogol.  Other appearances there include three musicals and "Der Dibuk" by Sh. Ansky, " "Itzik Manger's Megile" by Itzik Manger, "Yiddishe Mame" by Yoni Eilat, "The Magician of Lublin" by Isaac Bashevis Singer, "Di Groyse Gevins" by Sholem Aleichem and a variety of other Yiddish classics.  She plays Malka in the Netflix original mini-series "Unorthodox."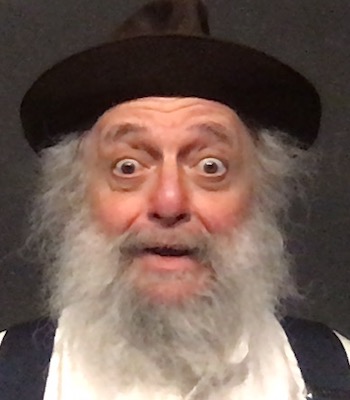 David Mandelbaum as Gunkel in Labor Of Life and Oybitter in Whore from ohio
about David
David Mandelbaum (Producer, Gunkel) has been producing and acting in experimental theater in New York for over 35 years, working at La MaMa, Theater For The New City, The Common Basis Theater and numerous others. In 2007, he and Amy Coleman founded the New Yiddish Rep and premiered its first show, his adaptation of the Holocaust classic, "Yosl Rakover Speaks To G-d." This was soon followed by "The Essence: A Yiddish Theater Dim Sum" and "The Big Bupkis: The Complete Gentile's Guide to Yiddish Vaudeville."  Under Mandelbaum's leadership, the New Yiddish Rep has presented original films, concerts, performance art, and art exhibitions, and has workshopped and developed a string of significant adaptations of modern classics in Yiddish translation.  He directed its Off-Broadway production of "Awake and Sing," appeared in its "Waiting for Godot," "Awake and Sing," "God of Vengeance" and "The Whore from Ohio," and produced "Rhicoceros" and its celebrated production of "Death of a Salesman."
Yiddish World Premieres
Waiting For Godot
Rhinoceros
The Labor Of Life
The Whore From Ohio
Yiddish Classics
God Of Vengeance
S' a Lign / Agentn
Meshiekh In America
An Evening with Y. L. Peretz
Originals
Yosl Rakover Speaks To God
The Essence: A Yiddish Theater Dim Sum
The Big Bupkis: A Complete Gentile's Guide To Yiddish Vaudeville
The Drunk Cantor
Land Of Fire
Modern Classics
Deathj Of A Salesman
The Irish Hebrew Lesson
The Bespoke Overcoat
Awake And Sing
Readings
Shylock
The Empty Inn
Making Stalin Laugh
Di Froyen
Yiddish World Premieres
Waiting For Godot
Rhinoceros
The Labor Of Life
The Whore From Ohio
Yiddish Classics
God Of Vengeance
S' a Lign / Agentn
Meshiekh In America
An Evening with Y. L. Peretz
Originals
Yosl Rakover Speaks To God
The Essence: A Yiddish Theater Dim Sum
The Big Bupkis: A Complete Gentile's Guide To Yiddish Vaudeville
The Drunk Cantor
Land Of Fire
Modern Classics
Deathj Of A Salesman
The Irish Hebrew Lesson
The Bespoke Overcoat
Awake And Sing
Readings
Shylock
The Empty Inn
Making Stalin Laugh
Di Froyen