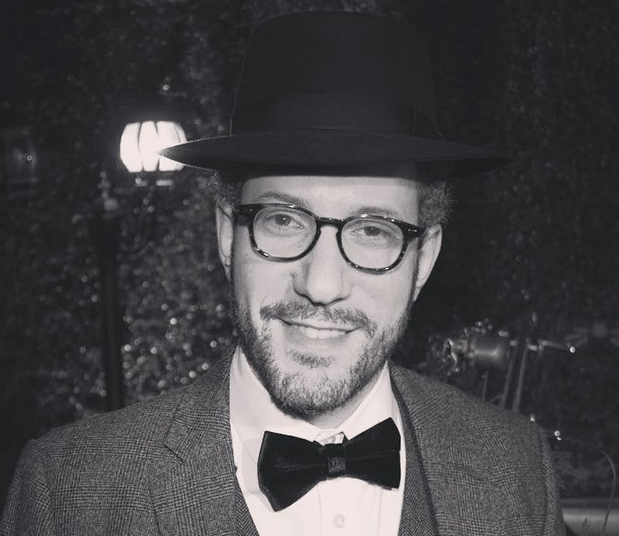 Interview With The Yiddish/Chasidish guru of "Unorthodox"
"As a corporate lawyer stuck in an unhappy and unfulfilling environment, I felt that my creative soul was dying. David believed in me and gave me my first break. And my second. And my third. And then a funny thing happened—I started believing in myself, too. And soon enough NYR became my second home. With the help and support of NYR, I've extricated myself from my past and rediscovered my love for Yiddish—all while building toward a very fulfilling future as an actor and writer." – Eli Rosen
Eli Rosen made his stage debut in  NYR's God Of Vengeance. He translated and stars in the NYR productions of Rhinoceros, The Labor Of Life, and The Whore From Ohio.
Theater Pizzazz Review of "Rhinoceros"
RHINOCEROS: A MASTERPIECE IN MAMALUSHEN
 By Myra Chanin
We all know you don't have to be Jewish to like Levy's Rye Bread. Likewise, you don't have to consider Yiddish mamalushin — your native tongue — to love the New Yiddish Rep's production of Rhinoceros. Mamma mia! Mamma mia! Wotta production! Wotta performance! Profound. Touching. And even more contemporary now than it was when it was written with neo-Nazis again marching with Tiki torches on college campuses recently.
I saw the English translation of Eugene Ionesco's drama on Broadway in 1961 – yes, I'm that old! — when Zero Mostel won a Tony for his performance, and remembered not being enthralled by either the play or by him. So, I refreshed my memory on YouTube and found myself eye to horn with an overwhelming Zero and an insipid Gene Wilder. Oy vay! Once again underwhelmed.
Nevertheless, I was instantly impressed by the way the multi-talented New Yiddish Rep's Artistic Director, David Mandelbaum, and the play's director, Moshe Yassur had turned two walls of huge room into a modest L-shaped theater, with the stage in the shared corner facing two pockets of stadium seats. Another multi-talented artist, Eli Rosen, who stars as Berenger, had been the translator of the Rep's new Yiddish version. Rosen understands the price paid for being an outsider. He was born into a Brooklyn Hassidic community, is a recovering lawyer who's now pursuing his lifelong passion for writing and performing. 
The cast of 11, is attired in Susannah Norris-Lindsay's colorful, optimistic, stylish costumes, on Evan Kerr's cleverly lighted stage which reflected the feelings expressed by the characters. The sets are simple but effective, tables and chairs initially, and later, cots and cabinets cut out from the wall. Eli Rosen's Jean, a highly cultured, somewhat arrogant, angry middle-aged man in stylish, sophisticated attire, prides himself on his rationality and sees himself as a mentor but is actually only a foil to protagonist Luzer Twersky's Berenger, an alienated, submissive, uncouth, apathetic confused Everyslacker who finds both his work and the culture around him unfulfilling. Their discussion of Berenger's flaws is cut short by grunting sounds. They look outside and see one, or is it two, Asiatic, or are they African, rhinoceroses with one, or is it two, horns smashing store windows as they barrel down the street. Shades of Kristallnacht.
All the townspeople are initially alarmed – like the people in The Visit — and debate how many and what kind of rhinoceroses if or have invaded their town. The endearing Macha Fogel as a loveable housewife with a beloved cat that's later trampled by a rhino is outstanding in a run-of-the-mill role. The would-you-believe Yiddish scholar and translator named Caraid O'Brien is equally impressive as Mrs. Ox who jumps out the window to join Mr. Ox when she recognizes her husband's grunt.
Eli Rosen's Jean turns himself into a rhino during a subtle but agonizing transmutation which begins against his will and ends up with his permission. Everyone else in town follows his lead, beguiled by some rhino facet. Berenger's beloved Daisy, who vows to stay by his side forever, eventually finds the music of the rhinos irresistible. The show ends with Berenger standing alone on the top rung of a ladder, encircled by bellowing beasts, declaring he will never give in.
I found the New Yiddish Rep's production remarkable, first of all because I love hearing Yiddish spoken. I grew up in a Yiddish-speaking household and still understand much of what's said, but not every word. Regardless, I am always distressed when the actors in a Yiddish play, learn their lines by rote without understanding what is the meaning of what they say, so I am totally thrilled with The New Yiddish Rep's ability to find actors who grew up speaking Yiddish and act as well as Alec Leyzer Burko, Macha Fogel, Malky Goldman, Mira Kessler, Eli Rosen, Gera Sandler, Luzer Twersky, Chezky Israeli and Melissa Weisz. Bravo for your emotional clarity. Eli Rosen and Luzer Twersky are especially commendable for their outstanding performances.
Moshe Yassur's superb direction was elegant, spare and direct, even-handed rather than star- oriented. His pacing gave every performer the time and space to impressively deliver his or her lines. Yassur directed Ionesco with the kind of subtlety demanded by Chekhov, thus adding a subtle communal element to the story which made the downfall of each character even more woeful.
Not understanding Yiddish is no excuse for missing this exquisite production, especially if you've ever raved about films by Ingmar Bergmann, Francois Truffaut or Luis Bunuel which you understood despite not knowing two words of Swedish, French or Spanish. The English translation in big clear type was flashed on the back wall. It was easily read, and the body language Yassur coached from the actors told you everything else you needed to know.
Photos: Pedro Hernandez