From the latest incarnation of "Vartn Af Godot"
David Mandelbaum Psoy Korolenko Shane Baker
"Land of Fire"
Dagmar Stansova Mihran Shlougian Scott Zimmerman Naçi Baybura Marilyn Lucchi David Mandelbaum

Yael Hassan Ilan George Geula Dan


Mario Diament (Playwright)

was born in Buenos Aires, Argentina. A seasoned journalist and writer, he is the author of several award-winning plays, most of which have been produced in the U.S., Latin America, Europe and the Middle East. He is a three-time winner of the Argentores Award, presented annually by Argentina's Society of Authors. He won the 2002 Carbonell Award for Best New Play for Smithereens and was a 2000 Carbonell nominee for The Book of Ruth that also won the Streisand Festival Award in San Diego, California. In 2003, his play Blind Date was also nominated for the Carbonell Best New Play award and was included in the Top Ten choices for the best theater of year by both The Miami Herald and the Sun-Sentinel. His play Houseguest received the Los Angeles Weekly (LaWee) Award. Two of his plays, The Book of Ruth and Blind Date have had their European premieres in Bucharest, Romania. Blind Date will open in April in Buenos Aires and later in the year in Mexico City.Mr. Diament lives in Miami, where he teaches journalism and playwriting at Florida International University and writes a weekly column for the Argentine daily La Nación.
Joining us this time around

Psoy Korolenko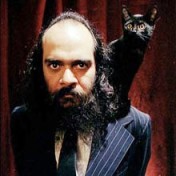 The mad Russian joins us as Pozzo, a role he was born to play!



Ilan Kwittken
Ilan plays the long suffering Lucky with a deep personal understanding of the role. Judy Judy Judy!!!